« Return to News
Agrinos and KREPL deliver crop solutions to northern India growers
NEW DELHI (June 27, 2017)—Agrinos has announced a new partnership with Krishi Rasyan Exports Pvt. Ltd. (KREPL), a key agriculture company based in northern India.
KREPL will initially offer two biostimulants powered by Agrinos' High Yield Technology (HYT®). Masaki, a microbial product, interacts with plant roots to improve crop nutrition uptake and improve soil health. K MAX, a granular formulation that allows for broadcast application, forms a symbiotic relationship with plants to support the absorption of phosphorus, water and other nutrients.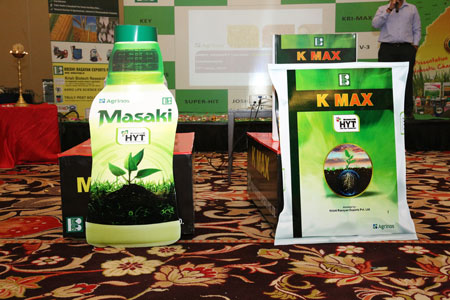 Product launch event for Masaki and K MAX in Chandigarh, India
The products were launched June 13 in Chandigarh, India. Agrinos' chief executive officer Ry Wagner was on-site for the commemorative event, along with vice president of India and Asia business Indranil Das and India country manager Debabrata Sarkar.
"The ability to work with a trusted and innovative partner such as KREPL opens the door for Agrinos technologies in a new and important region in India," Wagner said. "KREPL clearly has an impressive and expansive retail network, and we look forward to developing a strong partnership between our companies in the years to come."
"This partnership will provide better access to Agrinos' products for growers via KREPL's strong distribution network in northern India and will also further provide sustainable agricultural solutions to growers," Das said. "KREPL is a great organization with a passionate sales team that provides better crop solutions, especially in northern India. The opportunity to work with KREPL to deliver more differentiated HYT technology to the Indian market is groundbreaking."
KREPL is a strong leader in providing crop solutions in India, and will help Agrinos expand the reach of its HYT products.
"New and innovative products that bring value to Indian farmers has been our core," chairman and managing director of KREPL Rajesh Agarwal said. "We respect Agrinos as a technology-driven company and are extremely happy to have this as a long-term partnership. We are confident Masaki and K MAX are just the beginning of a new era."
About Agrinos
Agrinos is a biological crop input provider committed to improving the productivity and sustainability of modern agriculture. Agrinos' range of biofertilizers and biostimulant products helps farmers to practice profitable agriculture by providing increased crop productivity, improved efficiency of conventional fertilizer and a reduced environmental footprint.
Based on Agrinos' proprietary High Yield Technology (HYT) platform, the HYT® products provide benefits by strengthening the soil-based microbial ecosystem, stimulating crop development at key points in the growth cycle and boosting natural plant resistance to environmental stresses. With solutions for a variety of crop categories, the technology comprising the HYT products has demonstrated its value in third-party trials in key agricultural regions worldwide.
« Return to News