« Return to News
Agrinos Marks One Year Anniversary of VAM Launch in India
NEW DELHI (Aug. 10, 2017)—Agrinos introduced its vesicular-arbuscular mycorrhizal (VAM) products in India one year ago this month and is pleased to announce the product line has achieved significant adoption by growers. VAM formulations contain fungal spores that help plants improve root growth and facilitate nutrient absorption from the soil, thus increasing nutrient availability and enhancing crop yield and soil health.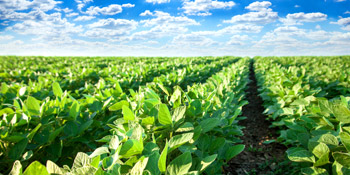 VAM has had a positive impact for Indian growers and agriculture, including better ability of plants to tolerate stress, more predictable and marketable yields, and sustainable soil health. In granular formulation, VAM enables Agrinos' range of biofertilizers powered by High Yield Technology (HYT®) to be used in a broadcasting application method. Across a wide range of crops, growers can achieve better plant performance and higher yields by mixing Agrinos' VAM with HYT products.
"Reducing nutrient deficiencies and supporting crops' ability to withstand adverse climate conditions is the focus of VAM," said Agrinos vice president of India and Asia business Indranil Das. "VAM stands out with higher performance and differentiated crop growth compared to competitors' products."
"VAM is accepted by farmers across all regions of India and is used in various crops," said Agrinos India country manager Debabrata Sarkar. "VAM is popular in the granular application market space, predominantly in the broad-acre crops like paddy, wheat, sugarcane, cotton and vegetable."
The VAM technology is sold under Agrinos' AVESTA brand and is marketed by several distributors under private-label brands. Agrinos has worked diligently in supporting its partners with strong technical sales activities to provide valuable and sustainable solutions to Indian farmers.
About Agrinos
Agrinos is a biological crop input provider committed to improving the productivity and sustainability of modern agriculture. Agrinos' range of biofertilizers and biostimulant products helps farmers practice profitable agriculture by providing increased crop productivity, improved efficiency of conventional fertilizer and a reduced environmental footprint.
Based on Agrinos' proprietary High Yield Technology (HYT) platform, the HYT® products provide benefits by strengthening the soil-based microbial ecosystem, stimulating crop development at key points in the growth cycle, and boosting natural plant resistance to environmental stresses. With solutions for a variety of crop categories, the technology comprising the HYT products has demonstrated its value in third-party trials in key agricultural regions worldwide.
« Return to News